If your idea of a relaxing holiday includes walking through the misty undulating tea gardens, tea valley covered with green tea bushes, sloping hill

tea gardens

make way for the meandering road which climbs and descends dramatically offering most enchanting vista of white fluffy clouds chasing the rain on the firmament of blue sky and down below women and men plucking tea leaves with their nimble fingers in the vast sloping gardens on the hills. Then you should head to the valley of Munnar.
The morning sun plays hide and seek with the dark rain laden clouds in the long months of monsoon and when it is time for the rain god to shower his blessings on the earth below it does so generously. Long hours of lashing rain followed by sunshine washes away any dust that may find its way on to the green trees and bushes. Tiny rain drops sparkle on the tea leaves and swaying trees.
The hills are not only abode to the several tea estates but also to numerous spice plantations producing the best of the Indian spices - cardamom, pepper, cinnamon, cloves and vanilla.
One look at the lavish spread of nature here makes one to believe that this land has been generously blessed and truly it is Gods Own Country!
What does one do in such a land, other than watch the nature in its glorious best? The monsoon rains, clouds, greenery, red earth accompanied with the call of birds unfold nature's opera. The
bulbuls, sunbirds, barbets, tree-pie, Malabar whistling thrush, babblers, drangos, the vernal hanging parrots create quite a ruckus.
The vista is the stage and the traveler, the audience in complete awe of the magical natural opera.
Gentle walks through the landscape, visits to tea gardens to watch the tea plucking process first hand, eat freshest food and rejuvenate in the spas is all that one should do here. The television, internet and mobile should be rested for few days. This is where one really connects with nature.

How to Reach: Approx 130 kms from Kochi, can be reached in about 3 hours. Drive down through NH85. Most of the resorts are away from the Munnar town. Hire car or taxi from Kochi. Drive from Kochi is itself a treat as one meanders through the countryside, villages, valleys with thick cover of evergreen forests and the rolling tea plantations.
Here's my pick of the top stay options in Munnar.
Ambady

Estate
http://ambadyestate.com/
Ambady Estate is wrapped in the cool embrace of the Sahya rainforest, surrounded by awe-inspiring Parvathy Hills on one side and the marvelous view of the 'Chokkan Mala', Idukki Dam, and the tea plantations on the other sides. Spread across seventy acres, the plantation is home to diverse and indigenous flora and fauna.
Tastefully appointed large and spacious bedrooms with attached living area and private gardens in the colonial twin
bungalows provide an invigorating and rejuvenating experience.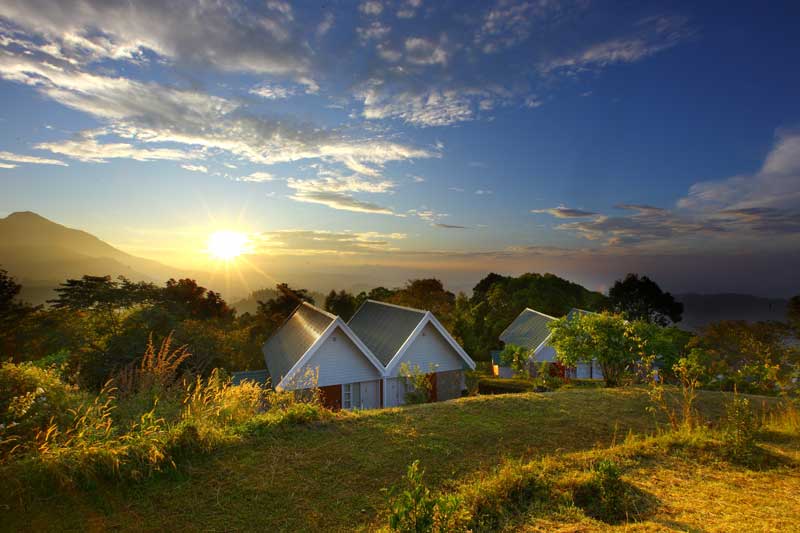 The estate offers various nature activity options - trek through the cardamom plantation under the shady canopy of old evergreen trees, participate in plantation activities like processing of cardamom and pepper. One can also go for jeep safari through the plantations, trek along the steep hills, or if you are lucky - you can also watch migration of Blue Tiger butterfly.
:

Facilities: Trekking, Nature walk, cooking classes, bird watching, Restaurant serves organic vegetables and herbs.
Tariff:
Ambady Estate
Tea Valley resort is just a stone's throw distance from Munnar town. The alluring bends and curves of Munnar roads will lead you to a wonderful luxury resort perched on natural greens. Stationed in the middle of a tea-estate, the name Tea-Valley literally gives you the feel of staying in the lap of mother nature. Every green sprout in this 6.5 acres of unexplored nature will surely enchant you.
Tea Valley resort in Munnar is unique in many ways. Pleasantly pitched in the middle of a tea-estate, it offers more of an escapade with nature in all splendour and color than a routine resort visit.
Tastefully furnished each room with private balcony faces the plantation and evergreen trees.
The resort offers 25 semi-detached cottages, each having a private deck overlooking the valley. The structure and the interiors provide a partially colonial and ethnic feel well-supported by the lush greenery surrounding the hill top resort. One can stroll in the nature-fresh garden to one's heart's content.
Facilities: Multicuisine Restaurant, mountain biking, rock climbing, reiki and yoga.
Tariff: Ranges from Rs.5,000 to Rs.6,500 depending on the cottage type and season of visit
Tea Valley Resort
Puthamedu, Munnar. Phone: 486 5233213 / 5232448.
email: booking@teavalleyresort.com
Bracknell Resort
http://www.bracknellforestmunnar.com/
Free from the pollution, hustles and bustles of the Munnar town, the "Bracknell Forest" is in the center of a cardamom plantation about 10 kms from Munnar town.
The cottages are built

in traditional Kerala Nalukettu architecture and fully loaded with the amenities the cottages offer
tremendous view of greenery from the balcony. The surroundings of "Bracknell Forest" is ideal for bird watching and the adventurous activities like rock climbing, trekking, etc.
The resort accommodates only five families which ensures you get personalized hospitality and service.
Facilities:
Tariff:
Bracknell Forest
Bison Valley Road, Ottamaram, Munnar. Phone:
4865 231555/ 266455. Mobile: 9947019099.
email:
bracknellforest@yahoo.com
Casa Del Fauno
http://www.casadelfauno.in
Casa Del Fauno is a charming country home situated amidst a cardamom plantation spread across hundred of acres. The home is located on a clearing dating built by the pioneering planters.
The home stay offers
three spacious bedrooms, all aesthetically furnished and equipped with all modern facilities for a pleasant and comfortable stay. Gourmet traditional Kerala cuisine cooked from the organically grown vegetable and grains from the nearby paddy fields. The fish comes from the nearby lake and the mutton from the local farmers.
Take a stroll down the estate road or drive and catch a glimpse of the sun, rising past the majestic mountains and peaks.

Unwind in the hut and enjoy and listen to the Malabar whistling Thrush wake you up from deep slumber.
Facilities:
Tariff: Ranges from Rs.

4250 to Rs. 6500
Casa Del Fauno Homestay
Peak Gardens,
Chinnakanal, Muttukadu, Munnar.
Phone: 484 3048769.
Mobile: 9895766444 /
9447222020
Talayar Tea Bungalow
1000 acres of rolling tea plantations with a 3 bedroom colonial bungalow could well be your abode in the clouds for few days if you care for solitude and being with nature. Talayar Tea Bungalow is set in the tea plantation, all rooms are furnished with period furnitures which offers comfortable stay option.
The bungalow has a living room, a rack library, a tea room leading and a well maintained garden, a bonfire area and lawns gracing the frontage of the bungalow.
Living there is quite like spending time at home with a difference that you have your own personal array of service staff. It is a perfect getaway for city bred souls in search of quality time to rejuvenate the body and mind and be in communion with nature. The tranquility that this place offers may some times unnerve a city bred person living life in the high street.
Let the Malabar Thistle wake you up, go for long walks, give that fresh dose of pure air to your weary lungs so used to pollution, spend time in the lounge reading the book that you always wanted to and engage in star gazing on a clear night. I bet you would not have seen such cluster of stars ever in your life (unless you are a village bred!). And when you need to get up close to the process of tea processing walk across to the tea factory and watch green leaves being tuned into provide the perfect cuppa!
Excellent home cooked food with cuisine ranging from soups to desserts with unlimited quantity like a home would keep you satiated.
Facilities:3 bedrooms with fireplace. Loving Room, Home cooked Meal
Tariff
Talayar Tea Bungalow
Talliar Tea Estate, Talliar, Munnar. Email:
sureshbabu.g@teil.in
,
reservations@teil.in
Mobile: 9495447748 / 9486951198. Phone: 4865-257314
Windermere Estate
www.windermeremunnar
.com
Windermere Estate is a 60 acre Cardamom plantation where the manicured tea gardens merge with the lush green forests of western ghats.

The Planter's family next door provides homely atmosphere, ensures security and local advice.
The choice of accommodation includes
The Garde Rooms -
four rooms set in verdant gardens with a lavish veranda and typical plantation home interior with a view of the valley below;
Cottages -
Six exquisite rooms named after the plantation vegetation (cardamom, coffee, vanilla) each spread over 600 square feet. The huge window frames do justice to the picture perfect mountains beyond;
The Planter's Villa Room s
et amidst the oaks with a perfect vista of surrounding tea-clad hills, each being 1,100 sq ft of wood with a private balcony, sitting & dinning, and a bathroom which opens into a courtyard still leaves you with an enormity of space. Massive, rustic & cozy furniture adorn the villa rooms.
For activity you may wish to embark on Cardamom walk through the estate which takes about 2 hr and covers 4 kms through the cardamom plantation and evergreen trees or go for long trek through the tea plantations and surrounding hills. You may also choose to Do Nothing!
The dining cuisine options here spans the traditional Kerala cuisine, Indian, continental and oriental. And for the dining venue one can choose from
The Barn,
an expansive dining area with an old fashioned fire place and wooden pillars or
Boulder Garden
tucked under a big boulder, ideal spot for barbeque and campfire.
The Hut
serves snacks, sizzlers and fruits.
A library here is well stocked with books and large materials on plantation and nature.
Facilities:
Tariff:
The Windermere Estate
Poathamedu,
Munnar. Phone: 484 2425237, 4865 230512.
Email:
info@windermeremunnar.com
Camp Noel
http://campnoel.com/
Camp Noel Nature Resort is a secluded wilderness resort that is inconveniently located high up in the clouds at an altitude of 6500 feet. Located near the village of Pazhathottam. It takes about 90 minutes to reach the resort from Munnar town. The first 30 kms is a very scenic drive on the Kodaikkanal highway via Mattuppetti and Kundale Dam. The last 6 kms to the resort is an off road adventure. Be prepared to ride out some rough terrain through a forest track, there are no roads to speak of!
The experience here is unlike the typical resort or hotel. Enjoy nature at it's pristine best, enchanting nature walks, treks of varying duration, camp fires and the occasional wild life rendezvous would keep you occupied. The place is hard to get to, b

ut once you get here you will simply fall in love with the place pristinely preserved.
Spread

over 15 acres of grass lands in the village of Pazhathottam (meaning Fruit Garden), once a royal orchard, it is surrounded by villages.
The beauty and design of accommodation here connects one with the surrounding environment, while ensuring comfort and convenience.
The charm of the cottages combined with the high standard of home comforts and modern facilities many miles from home, is instantly relieving, as you prepare to unwind and take everything at your own pace.
The accommodation options include spacious and beautifully appointed
Club House Rooms
with balcony overlooking the panoramic vista of mountains and valleys. Stay here entitles one to
exclusive access to the club lounge. The rooms can accommodate 2 adults, with well appointed double bed rooms attached with luxurious bathrooms.
The Cottages, two bedroom facility with views of the majestic mountains is ideal w
hen traveling with family or friends. All cottages are over 1000 sq ft and feature separate living area with beautiful stone fire place, gourmet kitchen, dining area, 2 bath attached bed rooms and all other necessary amenities. Cottages can accommodate 4 adults or 2 adults and 2 children
Facilities: Club House
Tariff: Rooms from Rs 5000 to Rs. 6000. Cottages from Rs 7500 to Rs 14500
Camp Noel
Puzhathottam Village, Munnar. Phone: 0484 2304406. Mobile: 8590507050.
Blackberry Hills
http://www.blackberryresorts.com
Nestled against the backdrop of hills are a set of delightful cottages with magnificent view of the mountain ranges. Time comes to a standstill at the Blackberry, where days are incredibly snail paced. And you definitely turn out to be the monarch of all your survey.
Well furnished ethnic cottages will charm you. Open your bedroom window to get the view of the most spectacular sunrise, or sunset from your balcony. Feel the life flourishing in the far-flung plantation village of the valley below. You cannot get any closer to nature than this and whisper sweet nothings to the mist-drenched valley.This is a balcony from where you can watch Munnar in its entirety, its tea plantations, waterfalls, tropical forests.
Accommodation option ranges from 18 cottages each with individual pathways nestling against mountain range; 6 Garden Studio rooms; 6 Garden Suites and 6 Villa Suites. Garden Suites and Villa Suites have a living room with dining area in addition to bed room and balcony - all with splendid valley view.
Caution: Not recommended for person with acute cardiac and knee concerns
Facilities:Dining, Sisal Spa
Tariff: Villa Suite from Rs 6800 to Rs 9600, Garden Suite - Rs 5900 to RS 8400,
Garden Studio - Rs 4900 to Rs 7200
Blackberry Hills Mountain EcoLodge

s
Bison Valley Road,
Pothamedu View Point, Munnar
Phone: 4865 232978 / 232979
Aranyaka Resort
http://www.aranyakaresorts.com/
Aranyaka is my kind of place - private, comfortable, luxurious, safe and tranquil. This is certainly a place for a

Traveler! The cottages are housed in Pallivasal Estate, the gateway of the Tata Tea's plantations in Munnar.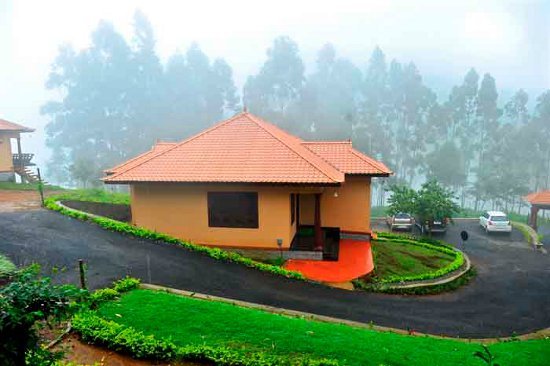 The four Cottage (named after the Indian rivers - Ganga, Yamuan, Godavari and Kaveri) accommodation that is well spread from each other provides absolute privacy. The aesthetically designed with eco-friendly materials, these cottages are e
quipped with the best-in-its-class creature comforts including wi-fi connectivity.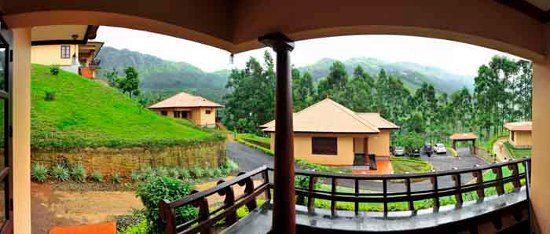 The in-house restaurant caters exclusively to the guests offers a wide menu of continental, chinese and Indian dishes. The ingredients used are fresh from the gardens around the cottage and plantations. For that exclusive dining experience they even set up table near your cot
tage or outside to experience dining under the open sky.
Home Stay Option: They also offer accommodation in cottages under Home stay option. Tariff for the home stay cottages ranges from Rs. 1750 to Rs. 5000
Facilities:
Tariff: Rs 3500 to Rs. 5000 depending on the cottage type and season visited
Aranyaka Resorts
Pullivasal Estate, Munnar. Phone:
4865 230533 /
230023
Mobile: Rajesh - 9443133722, Poornima Arun: 9744705709 / 8943234469
Email: contact@aranyakaresorts.com
Olivebrook
http://www.olivebrookmunnar.com/
Nestled in the rustic Elettaria Cardamom Plantation Olive Brook is a fine purveyor of excellent food and highly personalized service. Spread over 8 acre lush cardamom plantation.
The luxurious cottages categorised as Adam and Eve provide accommodation with the warmth and coziness of a family ambience. The building invokes colonial charm are set amidst lush cardamom plantations and a beautiful garden full of exotic plants with brilliant vibrant blooms.
The structure is designed with indigenous materials in an eco-friendly manner to blend perfectly with the surrounding lush landscape.
Carefully designed rooms offer jaw-dropping views of the lush surrounding greenery and the garden.
Activity option includes - trekking, rock climbing, explore local countryside.
Facilities:
Tariff:
Oliver Brook
Pothamedu,
Munnar. Phone:
4865 230588 / 231079. Mobile:
94470 71076
Nature Zone
http://www.naturezoneresort.com/
Nature Zone is all about experiences. Sleeping in a tree house, in the middle of wood, listening to the rhythmic chants of the beetles, waking up to the morning alarm set by the Malabar Laughing Thrush, sun rays peeping through the leaves.
It is the ideal spot to get acquainted with nature in its serene beauty and place where you can observe multitude of fauna from close quarters.
Accommodation option includes
12 African Safari Luxury Tents totally merged with the nature's landscape and 5 bamboo houses mounted on the tree tops.
Luxuriously furnished these tents and tree houses have made good use of eco friendly materials.
Each cottage has well-appointed rooms and large verandas surrounded by aromatic plants.
Tariff: Tent - Rs.6000. Tree House - Rs.7700.
Inclusions: Breakfast, Lunch / Dinner
N
ature Zone Resort
Pulippara, Pallivasal,
Munnar. Contact -
Jerin - 9946639985
Phone:
484 6493301.
Mobile
: 9645450703
Email
: reservations@brammahotels.com
Tall Tree Resort
The Tall Trees Resorts has magnificently preserved the diverse eco system on its sprawling 66 acres of evergreen forest and plantations and provides all the modern creature comforts in its cottages which are tastefully nestling among the greenery. There are 600 trees overshadowing the resort landscape covered with stretches of preserved wilderness, carefully nurtured cardamom plantations, gurgling streams, rocky formations and numerous orchids and wild plants. The endemic birds, butterflies and wild animals cohabit and make this place truly a nature's own play field!
Each cottage is an independent unit and built on stilts under the lofty trees.
The interiors and furnishing have local Kerala traditional and rustic flavours combined with the modern ideas of comfortable living. The balconies allow the residents to observe the nature in all its verdant bounty all around.
The Luxury Cottage has two well-furnished bedrooms with attached bathrooms, one spacious living room, one dining room and two balconies from where you can be one with nature. Deluxe Cottage has one well-furnished bedroom with bathroom, a living room, a dining room and two balconies. Standard Cottage has a large bedroom with attached bath and a spacious balcony.
Activities: Walks and treks through the forest land and plantations. Campfire, barbeque's and adventure activities.
Dining: The multi cuisine restaurant offers Continental, Indian and Kerala delicacies in glass roofed restaurant The open air theater and campfire areas enhance the unity with the earth.
The birds sing in unison with nature.
Facilities:
Tariff: Standard Cottage - Rs.6400 to 8800, Deluxe Cottage - Rs. 10400 to Rs.12800
Luxury Cottage - Rs 16800 to Rs. 21600
The Tall Trees
Munnar. Phone:
4865-230641 / 230593 / 232716.
Email :
info@ttr.in
Mountain Trail
www.mountaintrailresort.com
Mountain Trail Resorts has
20 elegantly furnished suite rooms set in landscaped garden, each suite has a well-appointed living room and a spacious bedroom with balcony which offers stunning views of the surrounding landscape.
The m
ulti-cuisine restaurant offers dishes spanning across Kerala, South Indian, North Indian, Mughlai and Continental cuisine
MountainTrail
Venadu, Chinnakanal, Munnar. Phone: 4868 202600, 202601
Email : mail@mountaintrailresort.com
Kalarickal Heritage
www.mahindrahomestays.com/homestays/thekkady/kalarickal-heritage-bungalow
The almost a century old heritage Kalarickal bungalow offers a perfect home stay in the plantation land.
The bungalow often doubled up as the village office for the planters who came to seek advice from him. The traditional essence of the bungalow has been retained ensuring that the original granite and clay combination blends perfectly with the new teak roof additions, mandatory for the upkeep of the house.
An old curing shed for cardamom still stands at the entrance, with many new additions to the machinery to simplify the process.
With an avid interest in flowers, the greenhouse takes care of some magnificent anthuriums, in memory of his mother, from as far as Hawaii. Bee keeping is one of the other interests which keep the hosts busy.
Pepper and cardamom grow on its plains, coffee can be found on uphill in the plantation.
Tariff: Rs. 3250 to Rs. 4000

Club Mahindra Lake View
Club Mahindra Lake View is an excellent property nestled inside a rolling tea plantation. Sitting in your cottage or apartment balcony you could see the vast expanse of the rolling tea plantations, hills and the lake in the far distance. Tea shrubs are all around, you step out of your cottage and you have the rolling tea plantations.
Club Mahindra Lake View as seen from a distance across the valley
The clouds play hide and seek and when it pours it shows on the land below and the swaying trees
The birds rush to their nests and create quite a ruckus.
The evening from the balcony brings enchanting play of fading daylight, clouds descending in the valley and even caressing your face. The car lights leave a bright streak on the road below.
The cottages and apartments are shrouded by thick foliage cover. The resort has been planted with large varieties of evergreen trees and plants. Designed purposely to provide a salubrious environment to the jaded city bred travelers.
Spacious studio apartments and cottages are tastefully furnished and provide comfortable stay. All apartments and cottages have kitchen with microwave oven, crockery and cutlery.
Facilities: Club, Multi cuisine Restaurant, Barbeque's, Children's Corner, Store, Gift shop,
local excursions
Tariff:
Club Mahindra Lake View
Chinnakanal, Munnar
KTDC Tea County
http://www.teacountymunnar.com/
Cosily nestled right in the middle of two hills is Tea County. Enjoy the mist rolling down in the warmth of luxuriously furnished rooms. For activities one can bicycle down mountain trails, para glide over the valleys, go trekking, climb rocks, try to catch a rainbow trout or spend a day in a tea plantation.
67 rooms and suites, all tastefully furnished to provide comfort and great view is hallmark of this resort.
Facilities: Ayurveda therapy, health club, restaurant, paragliding
Tariff: Rs.5000 to Rs.12000 depending on the room type and season of visit
Tea County - KTDC
KTDC Hill Resort, Munnar. Phone: 4865-230460 / 230969.