If there is one cultural complex in India that stands out both as a piece of great architecture, treasure trove of Indian art and a vibrant platform for display of drama, music, art, dance and other forms of art then Bharat Bhavan of Bhopal stands out.
Panoramic view of the Bhopal lake and old city from the terrace of Bharat Bhavan
Blue tiled domes on the terrace of Bharat Bhavan
Enchanting inner courtyard- space for creative adda
This multi-art center was established and funded by the government of Madhya Pradesh and the master architect Charles Correa was entrusted to design and build the center on the Shamla Hill by the lake at Bhopal. The location certainly inspired and provided the architect with a classic space where he could play around with the natural elements and create a free flowing, terraced space that exudes openness. Bright and sunny spaces, terraced gardens which cascades down to the edge of the lake, open courtyards, amphi-theatre, galleries with high ceiling, smooth flow of air and sunlight lit enclosures adds to the charm of this cultural arena.
The centre was inaugurated in 1982 by the Prime Minister of India, Indira Gandhi, since then Bharat Bhavan has seen some glorious days and not so good ones too. The centre was once run by the great masters of Indian art, literature and culture.
Gond Painting - Earthy, simple yet elegant
Gond Painting
Masters like J Swaminathan, Habib Tanveer, Kumar Gandharva, Sonal Mansingh, B V Karanth, Ajneya, Syed Hyder Raza, Manit Bawa and Ashok Vajpeyi have been actively associated with running of the centre in the past. Their honest interest in developing an alternate to Delhi as cultural hub of India has been success to a certain extent and could have been more only if there would have been less of political interventions in managing of the centre.
Painting by J Swaminathan
Another painting of J Swaminathan
The activities of the centre are organized through various wings. Roopankar is the Museum of Fine arts, Rangmandal - a Repertory, Vagarth - a centre for Indian Poetry, Anhad - for classical and Folk music and Chhavi for Classical Cinema.
s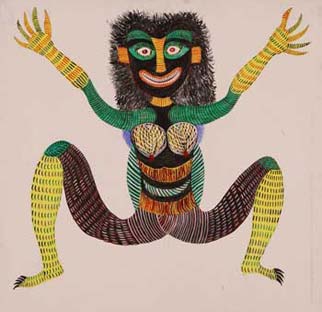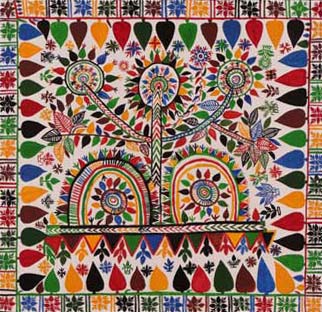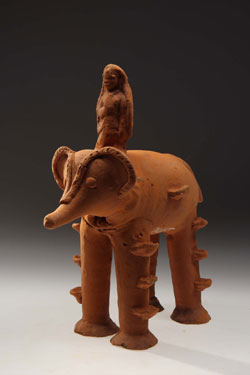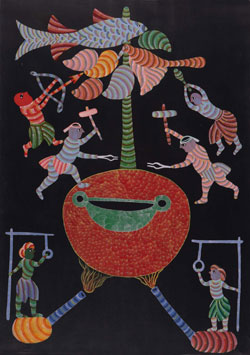 The collection of contemporary art at Bharat Bhavan is no mean in number or standard. works of J Swaminathan, S H Raza, M F Hussain, F N Souza, Ghulam Mohammed Sheikh, Manjit Bawa, Tyeb Mehta, Jehangir Sabavala, Ramkumar, Akbar Padamse, Vivan sundaram, Bikash Bhattacharya, Jogen choudhary, Prabhakar Kolte, V S Gaitonde, Satish Gujral, K K Hebbar, N S Bendre, Krishan Khanna, Bal Chavda, Ambadas, Vishwanathan, Amitava Das, Madhavi parekh, Akhilesh and many others are on permanent display here.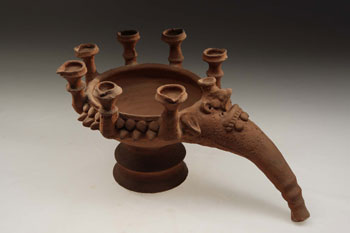 The galleries are open on all days from 10 am to 6 pm. One can watch plays, musical soires, mushaira and other cultural programmes which is organized on regular basis. The annual Drama Festival is a marquee event here.